We are fortune to work in partnership with two local First Nations to offer our Grizzly Bear Tours. Both the Homalco First Nation, and the Klahoose First Nation generously welcome us into their traditional territories and share their culture, history and stories with us.
Homalco Wildlife and Cultural Tours
Homalco Wildlife & Cultural Tours and its staff have been stewards of the grizzly bear population in our traditional territory of the χwe̓malhkwu (Homalco) First Nation in Bute Inlet for two decades. The sites cultural and historical significance spans since time immemorial. Your journey with us as a First Nation tour operator is complimented with a unique Indigenous perspective on your wildlife experience. We invite guests to the iconic Canadian wildlife and spectacular nature through the eyes of the Northern Coast Salish people. Learn about the connection through stories, language, history and knowledge and become immersed for a day of cultural discovery and wildlife.
We are proud partners of Homalco Wildlife and Cultural Tours on our Bute Inlet Grizzly Tours.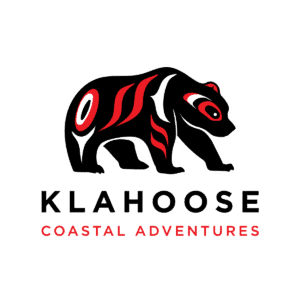 Klahoose Coastal Adventures
Situated on the central coast of British Columbia, the Klahoose Nation has lived since time before memory on lands, waters and air that make up their territories. Klahoose ancestors spirit soars here and can be heard in the wind as it rustles the treetops and guides their peoples.
​We are proud partners of Klahoose Coastal Adventures on our Toba Grizzly Tour.